Yes, I got tickets to watch Price of Persia : The Sands of Time.

Since we had no classes on that day, Ben and I came up with a little project of our own : to cook lunch together. I kept it simple; Spaghetti Bolognese. So we got minced beef from Jusco (other stuff already bought earlier) and set about working in the kitchen. Ben was my
sous
chef and chopped mushrooms.
Honestly, it was super hot and tiring because my hostel kitchen is SUPER STUFFY in the afternoons. End product :-
Was good, even though I say so myself. Hehe.
(Ben lets do this again!! You chop ONIONS next time alright???
)
The screening was in Cathay Cineplex in e@Curve as usual. So naturally, dinner had to be somewhere in The Curve. Since Ben and I both had got tickets, Afnan and Louisa were our guests again. Louisa needed to study for her Maths paper the next day and told us she'd make her own way to The Curve; so Ben picked only Afnan up and we joined Adrian and Zheng Si in Italiannies for dinner. I was still super full from lunch (we overdid the cooking and there was too much) so I suggested that Ben and I share a starter instead of ordering a full meal each. So here was our Quattro Platter:-
My opinion of Italiannies has been sinking lower and lower with each visit and this visit went the same way. Is it me or is the food in Italiannies dipping in quality?? Horrible. Everything seems to be
greasy
and
carelessly prepared
. I can't even make the Platter look good in my pictures. The other pictures I took of the food turned out terrible also except for Adrian's appetiser :-
Luckily this one turned out okay, else I really
kik sei
since I can't even post up nice pictures from the unsatisfactory visit. We went to collect our tickets after dinner and found a long line even though it was only 8 p.m. and the ticket booth opened only at 8:30 p.m. We got our tickets after some waiting :-
This time, our tickets came with four cans of Mister Potato's new Rice Crisps since this was meant to be a 'Snack & Screen Session'. We only got 3 out of the four new flavours though :-
Sour cream missing!!! I love sour cream. :(
Anyway, onward to the movie. Prince of Persia : The Sands of Time.
I'm usually quite cynical when I watch movies based on books or video games. Yes, in case you did not know, Prince of Persia is actually a video game. I did play it on PS2 because my brother had the game. Anyway, focusing on the movie and not the game (Oops), I really enjoyed it. There were a lot of action scenes and dry humour in there, which came at the right timing.
My personal favourite character in the movie was
Alfred Molina
as the scheming ostrich racer, Sheikh Amar who is all about gold, more gold and evading tax. He had so many funny lines in there it had me chuckling away whenever he appeared on the screen.
Jake Gyllenhaal did a good job as Prince Dastan; the orphaned boy from the streets of Persia who was adopted by the King. I really like how they incorporated some of the video game's signature moves into the movie; like the climbing and running on spikes in the wall and the high back flips and so on, without it seeming overly dramatic slow-motion. Nice.
Gemma Arterton played Tamina in the movie. I didn't particularly liked her character in the movie because it was rather bitchy, sneaky and basically not very nice. Not what I'd expect from a Guardian of a pure/ holy city in the movie. But I guess it all added spice to the movie. I guess many people liked her in this outfit :-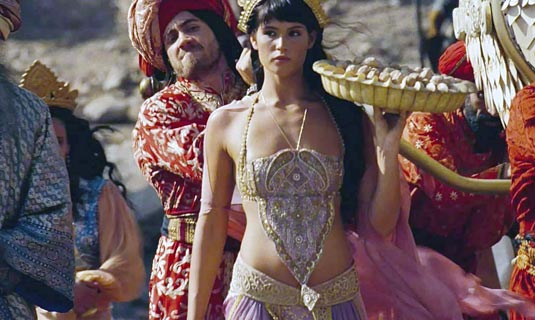 Haha!!! Couldn't resist. :P

Anyway, THANK YOU NUFFNANG and MR POTATO for a great movie session!!