Ben asked me to choose a movie the night before and I said I wanted to watch 'When In Rome'.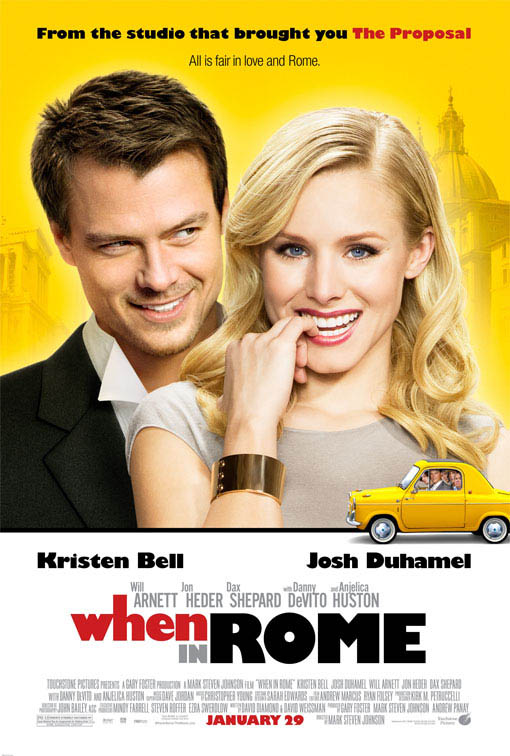 Apparently only GSC is screening this movie so he got us tickets for the 11am slot in GSC MidValley. It has been a long LONG time since I watched a 11am movie. I seriously think the last time was when I was still in Sunway Ipoh..which means 2008.


The movie was funny and enjoyable; though the plot was pretty predictable. The characters were well cast. There were some scenes where they were doing outrageous and over-the top things but it all added the to the hilarity. Not bad for a romantic comedy. I loved the scenes of Rome in the movie though there weren't enough of them. But my especial favourite was the little yellow Italian car used in a pretty funny chase:-
Here's another of Fergie standing next to it with husband Josh Duhamel (male lead) squashed inside:-

Can I have the car AND the man please?????
After the movie, Ben was lured by the tempting smells wafting from Saint Cinammon. They just took out a batch of fresh cinnamon rolls from the oven. It's been years since I had a roll from there so we ordered 3 rolls to share:-

Mmm..I wish I could smell them again..

Chocolate

Apple

Walnut
We hung out quite some time in Saint Cinnamon and later killed time walking around MidValley deciding on lunch. Since we were kind of lost for ideas, I just suggested Kim Gary. I just felt like eating their Cheese Baked Rice.
My Steak Cheese Baked Rice

(wasn't really great. I didn't finish the rice)
Ben's Rice with Egg and Mince Beef

Our drinks and starters which came with the set:-
Iced Milk Tea and Iced Mixed Coffee and Tea

Cream soups

After lunch we were pretty listless until Ben started text-ing with his friend and asked me if I wanted to watch The Losers. I was fine with it so we bought our tickets and entered the cinema.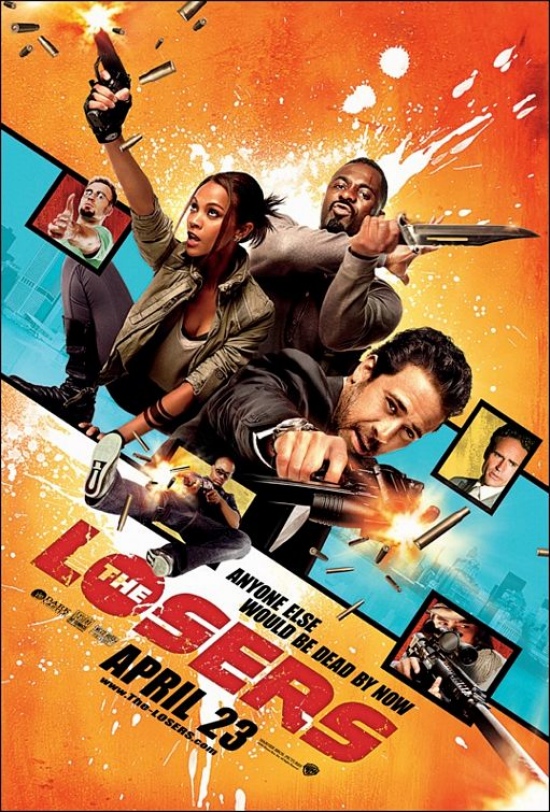 I really enjoyed this movie. It's action packed but not too intense. The violence level was at okay level for me (sorry if I sound squeamish but I don't particularly enjoy watching people being beaten into pulp with blood spurting everywhere) and there was some good humour inserted along the story. The characters were interesting. Specially liked Chris Evans as Jensen:-
Had me chuckling away at his funny t-shirts and his funny singing of the Don't Stop Believing. I was not bored or sleepy or confused along the duration of the movie. Only thing was, I was not satisfied with the ending. Kind of abrupt and loosely hanging...meaning there will be a sequel, I guess. (Hmm..I just realised that both these movies had totally FUNNY lift scenes)
Anyway, after the movie was over, we went for a short meet-up with Ben's friends where I was introduced to Adrian, Zheng Si, Andy and Mun Yan. Just had time for a short "Hello." and smiles since time didn't allow and everyone had their own plans. Dinner was in Noodle House in SS15. We ordered their promotion RICE sets. Yup, you read right..rice in NOODLES House:-
Black Pepper Chicken (Mine)

Green Tea(his) and Iced Lemon Tea(mine)
Maybe I was having the luck with the orders...although Ben said afterwards he was alright with it, I thought his chicken and drink were pretty tasteless. =/
They also offered chilli sauce with a brand I'd never seen before..
Hmm...
When I got back to my room,I was feeling super stuffed with all the day's intakes. On the plus side though...It kept me awake and I managed to get through my Quality chapters in P3. Okay..that's all for now. :)